Tokyo Midtown Design Hub 74th Exhibition
University Labs Exhibition
---
---
BASIC INFORMATION
More and more schools are teaching design, not just art and design schools, but the different ways that students learn design at their schools has been little studied. This exhibit shows the course content and student works of 10 art and design schools in various fields. It showcases different design styles and student perspectives based on the subjects of each class and study group.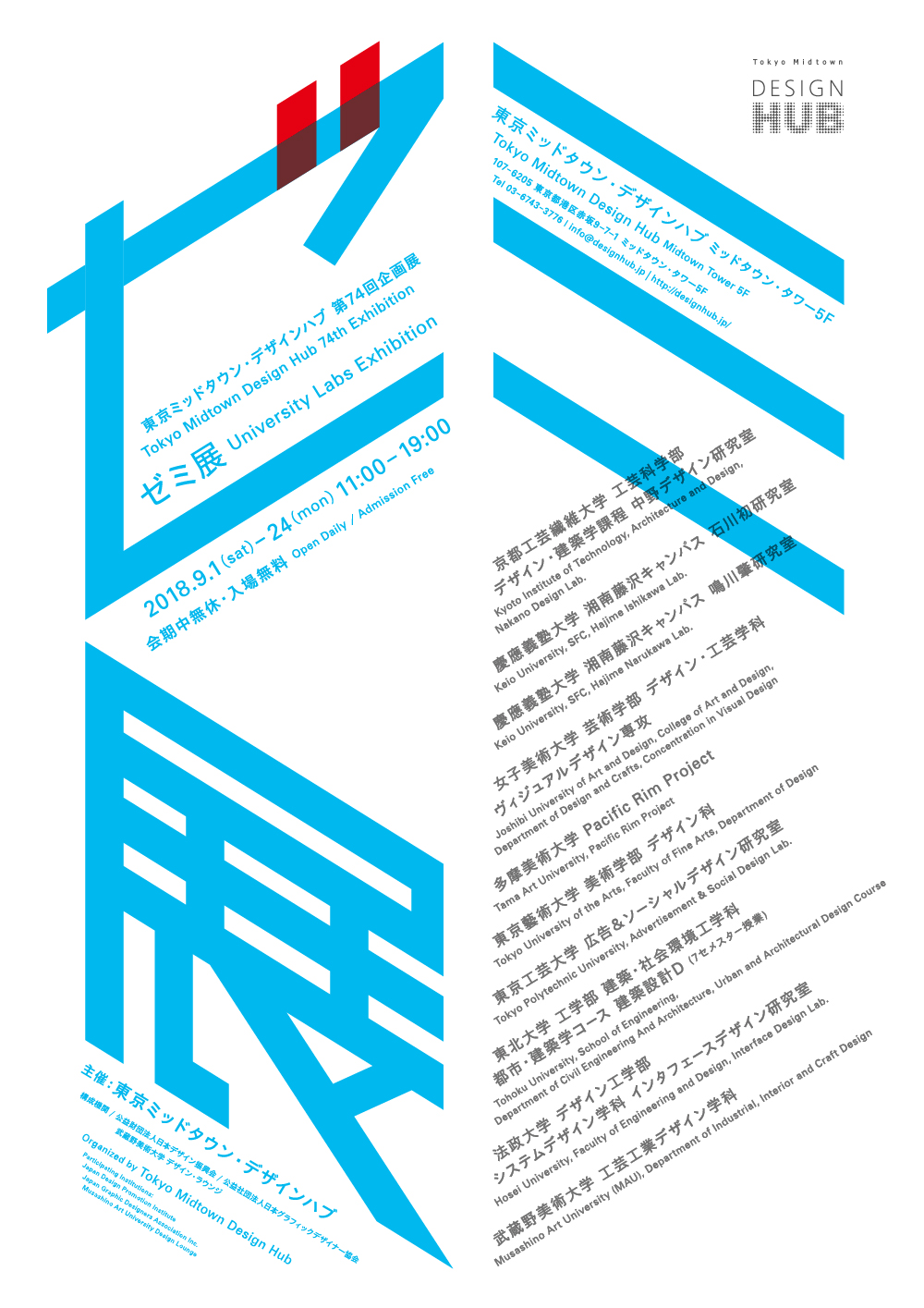 ---
Dates: Saturday 1 – Monday 24 September 2018
Open daily 11:00–19:00 / Admission free
Venue: Tokyo Midtown Design Hub (Midtown Tower 5F)
Organizer: Tokyo Midtown Design Hub (Participating institutions: Japan Institute of Design Promotion, Japan Graphic Designers Association Inc., Musashino Art University Design Lounge)
Exhibitors
- Hosei University, Faculty of Engineering and Design, Interface Design Lab.
- Joshibi University of Art and Design, College of Art and Design, Department of Design and Crafts, Concentration in Visual Design
- Keio University, SFC, Hajime Ishiskawa Lab.
- Keio University, SFC, Hajime Narukawa Laboratory
- Kyoto Institute of Technology, Architecture and Design, Nakano Design Lab.
- Musashino Art University (MAU), Department of Industrial, Interior and Craft Design
- Tama Art University, Pacific Rim Project
- Tohoku University, School of Engineering, Department of Civil Engineering And Architecture, Urban and Architectural Design Course
- Tokyo University of the Arts, Faculty of Fine Arts, Department of Design
- Tokyo Polytechnic University, Advertisement & Social Design Lab.
Related Event
Date: Sunday 9 September 2018
Time: 2pm- Guided tours by tutors/students from 10 participating schools
4pm- Opening Reception
*Booking required (seats limited to 50 persons)
---
EXHIBITION DETAILS