Tokyo Midtown Design Hub 95th Exhibition
University Labs Exhibition 2022
---
---
BASIC INFORMATION
Design has evolved into a universal tool utilised to improve society in all aspects of our world. There are numerous educational institutes outside the framework of traditional art universities and design colleges, as each school challenges "education" through ingenious initiatives. This year's University Labs Exhibition introduces how students, the future frontrunners in various fields, are learning design through labs' research themes and students' works on these challenges at seven schools across Japan engaging in design education and research. Along with these labs' unique approaches towards design and their students' fresh perspectives, observe how they faced and handled the last two years' coronavirus pandemic through research themes and novel learning methods they have adopted.

Main visual: Masaaki Hiromura
---
Tokyo Midtown Design Hub 95th Exhibition
University Labs Exhibition 2022
Dates: Monday 10 January – Tuesday 15 February 2022
Hours: Open Daily 11:00–19:00
Venue: Tokyo Midtown Design Hub
Admission: Free
Organizer: Tokyo Midtown Design Hub
(Participating Institutions: Japan Design Promotion Institute, Japan Graphic Design Association Inc., Tama Art University Bureau)
●Online Gallery Talk (admission free)
Part 1: Hakodate Future University + Nagoya Zokei University of Art & Design
Date: Tues 8 February, 7-9pm
Format: Zoom Webinar & YouTube Live
Video of the Event
Part 2: Tokyo Metropolitan University + Tama Art University
Date: Wed 9 February, 7-8:15pm
Format: YouTube Live
Video of the Event
Part 3: University of Toyama
Date: Fri 11 February, 6-6:45pm
Format: Zoom Webinar & YouTube Live
Video of the Event
●Participating Schools
· Future University Hakodate (Department of Media Architecture, Okamoto Makoto Lab. + Yasui Shigeya Lab.)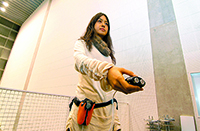 Tutor: Makoto Okamoto | Project: Perception Design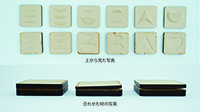 Tutor: Shigeya Yasui | Project: Graduation Work "Production and Verification of Tactile Game Made of Substantial Materials"
· Joshibi University of Art and Design (Department of Design and Crafts, Concentration in Visual Design)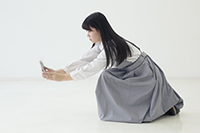 Tutors: Misa Awatsuji, Katsuhiko Shibuya, Noriaki Hayashi, Norikazu Matsuyama, Reiko Hakumura | Project: SPEED FLAT – A Design Project for Future Manufacturing
· Tama Art University (Department of Architecture and Environmental Design)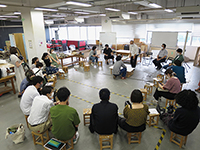 Tutors: Minoru Matsuzawa, Atsuo Konishi | Project: Rod Chair
· Tokyo Metropolitan University (Visual Communication Design Studio)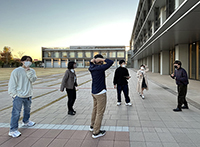 Tutor: Yuki Kikutake | Project: Explore 3D Graphics
· University of Toyama (School of Art and Design, Kiichiro Hagino Lab)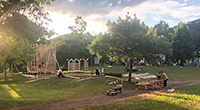 Tutors: Kiichiro Hagino, Yushi Uehara, Tenshin Yokoyama, Masashi Ouji, Yusuke Yabutani | Projects: Shelter (2nd Year Undergraduate), Think with Hands and Make with Body (4th Year Undergraduate)
· Nagoya Zokei University of Art & Design (Representation Design, Interface Design Seminar + Interactive Media Seminar)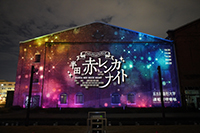 Tutor: Takahiko Toyama | Project: Contents Production Featuring Visual Expressions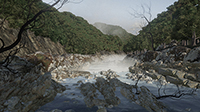 Tutor: Jean-Marc Pelletier | Project: Game Design Based on Real Space
· Musashino Art University (Academic-Industrial Cooperation Project)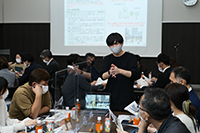 Tutors: Shinichi Inada, Hiromi Inokuchi, Atsushi Hasegawa, Kazuhiko Yamazaki, Koichi Wakasugi | Projects: University-industry Project by Department of Industrial, Interior and Craft Design, College of Art and Design; University-industry Project by Department of Creative Innovation, College of Creative Thinking for Social Innovation
---
EXHIBITION DETAILS